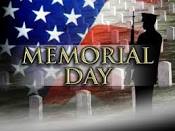 KC Restoration wishes to honor the heroes who have died in service to our country this Memorial Day. Their sacrifice is remembered and appreciated. Protecting our country and freedom allows business owners to thrive. Thank you.
As former civil service professionals turned business owners, it is our pleasure and joy to be employers. We are happy to provide our employees a livelihood and they are proud that their work has given KC Restoration a reputation as the premier metal refinisher in Kansas City metro. We support providing jobs and are interviewing a former veteran and hope to hire him for a position with us.
Although Memorial Day is to honor the ones who have made the ultimate sacrifice, we are privileged to support military causes and veterans. We have a for profit business in order to give to those who have given so much for us. A portion of our profits have been donated to: The Independence Fund, Companions for Heroes, Travis Manion Foundation, Fisher House, Wounded Warrior Project and The Mission Continues.
This Memorial Day we feel especially blessed and thank the men and women who have died in the line of duty. Happy Memorial Day.